Crucial Tips to Choosing the Right Locksmith Company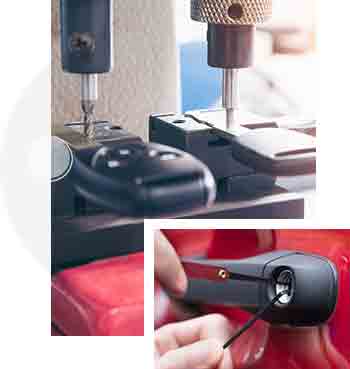 Do you lose sleep at night, worried that your home or business in Decatur, Georgia is inadequately protected against potential harm? Do you jump at every sound, even when you're sure all of your doors and windows are locked? The right locksmith company can assist you in upgrading your property's security to be the best it can be, whether it's your home, business, or vehicle. In addition, a locksmith company can come directly to you in the event of an emergency involving your security, whether you've locked yourself out or a break-in has occurred on your property. 
However, while there may be many locksmiths advertising for your area online, not all of them are created equal. In fact, many hires poorly trained amateurs to work on your locks, which may cause your property to be at risk. Don't waste your money or risk damage to your property—instead, check out these tips for finding the right locksmith company that will give you outstanding results at an affordable, fair cost. 
The following tips can assist you in choosing the right locksmith company to assist you. A professional, experienced locksmith company, such as Decatur Locksmith LLC, can partner with you to meet all of your security goals and quickly alleviate any security emergencies you may experience. A locksmith company's services are only as good as the locksmith doing the work, so it's vital to hire a company you can really trust to get the job done right. At the same time, you don't have to pay a fortune to receive said services. 
Tip 1: Don't Skimp on Research 
Don't settle for a company that you're not entirely sure of or that has a dodgy history. Doing your homework can prevent you from receiving subpar services or even incurring damage to your locks and property. Make sure to choose a company that has experience providing the kind of locksmith service you need specifically. Research both their website and any social media presence that they have. Pay particular attention to any reviews they've received. 
The locksmith company that you choose should only employ professional, trained, appropriately certified locksmiths. In addition, those locksmiths should pass a background check before performing their services. Not all locksmith companies are as strict about their hiring credentials, so it's crucial to research your choices thoroughly. Never just choose the first locksmith company that comes up in web search results, no matter how desperate you may feel. Instead, take the time to research a few companies that appear to be legitimate and well-qualified. 
Tip 2: Be Wary of Scams & False Information 
One reason many people hesitate to call a locksmith when they're facing a lockout or another similar situation is because they've heard horror stories about locksmith scams. While this makes up a small percentage of the locksmith companies out there, it is something you need to protect yourself against. Investigate each company that you're considering to carefully determine whether their credentials are legitimate. Be sure to pay attention to any red flags you may encounter and don't just brush them off. Trust your intuition. The security of your property is too important to leave to just anyone.  
Tip 3: Stay Local
By choosing a locksmith company that is locally owned and operated, you'll have a higher chance of receiving personalized, high-quality service. A local locksmith will not only be able to reach you quickly in the case of an emergency, but will probably be available 24 hours a day, 7 days a week. Ask around to your family, friends, and coworkers to see if any of them have had to hire a locksmith company in the last year. If so, would they recommend the company? If not, why were they unsatisfied? This can also help you identify potential candidates and narrow down your list. 
Tip 4: Contact Each Potential Company
Every locksmith on your list should have a phone number on their company's website. Write these down as well, and with pen and paper by your side, contact each company. Ask them specifically about the services you require, the company's history, the service hours they offer, the qualifications of their locksmiths, and any other questions you can think of related to your situation. Write down and compare their answers to assist you in narrowing down your top choices for locksmith assistance. Don't worry about taking up the person's time; all locksmith companies that are on the up and up have dispatch lines that allow them to answer their potential customer's questions without interfering with other calls getting through. 
Tip 4: Collect & Compare Quotes 
Reach out to every locksmith company you have on your list as potential options. Not only should you ask them any questions you may have, but ask them each for an estimate of the services they will be performing for you. Any locksmith company that is committed to their customers and above-board should have no problem offering you a free quote. Any company that is not willing to give you an estimate over the phone should be reconsidered. Make sure to directly ask whether the quote includes not only the services themselves, but also the cost for labor, any parts, and any additional fees. 
Tip 5: Stick with a Company You've Had Success With 
Once you've had good results with one company, make sure you save their contact information in your smart phone or on a card in your wallet. That way, you'll have access to the qualified help you need when you need it, if an emergency arises with your security in the future. This can give you peace of mind in knowing that you always have a great locksmith ready to go.  
Following these helpful tips will go a long way to ensuring that you choose a locksmith service provider that you're happy with, no matter what locksmith services you require. The best and most qualified locksmith service providers are well-established and have a proven history of providing excellent services for their customers.