Keyless Entry System Benefits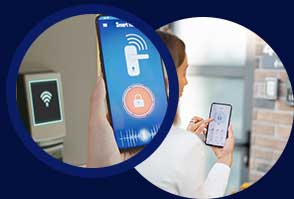 If you are researching and spending time investigating solutions for security, then you are doing the right thing for your property. In your search, you are sure to come across a very special security solution that many people are taking advantage of today - keyless entry systems. A keyless entry system is wonderful because it allows you, as a property manager or owner, to get into your own property with ease or to grant access to those you trust. You can access a property without having to rely on traditional keys –which can work very well for many, but maybe you are looking for something more advanced. You could opt to use a key card for entry, a wristband, a fingerprint and more. If you have a commercial property, this is definitely a system you'll want to consider. 
Why Should You Go Keyless?
What makes one choose keyless entry systems? Well, simply put, they appreciate this type of access control. They have reasons for wanting to restrict access to their property, whether it's restricting people from getting through the front door or even to areas that have hazardous items. It could be that you simply don't want anyone but you to be able to access your property, and that's completely understandable. These are all reasons for going keyless.
Those who own apartment complexes or are in charge of them might want to offer some degree of keyless entry, for example, to the gym or pool area. This can make things easy for residents and for you so you don't have to keep duplicating keys or worry about having locks rekeyed. Going keyless can give you what you want and need, without setting you back financially. There are systems that are quite affordable. Going with a keyless system means no more traditional keys. Having keyless entry can be very beneficial for a person who wants to keep track of who is coming and going at their property.  
Does your commercial property have mechanical locks? This can be problematic if you have an employee leave. You will have to replace or rekey the locks, which can get costly if you have high turnover. You also can't trust that someone unwanted didn't gain access to a key copy. Thanks to the benefits of a keyless system, one is able to disable their key card switch up the passcode. This allows you to save money while maintaining your security. 
As you can see, there are so many benefits to having a keyless system. This is why so many people are opting to use them nowadays. There has been a big surge in their popularity. With the different price points and styles, there is no shortage of options. Depending on where you live, you might want to look for a system that stays in good shape regardless of weather conditions. Going over options with a locksmith can be very helpful.
Ready to Go Keyless? Call A Locksmith! 
Having a keyless entry system installed gives you more than just the security you desire. It also lets you take advantage of the latest technology. This type of system helps to keep unwanted individuals from accessing your property and belongings. If you want an added layer of security, you can even get an alarm that alerts authorities if one tries to break in or bypass your system. Talk to a locksmith to learn more about these options that you have at your disposal. You won't be disappointed. And you can even go over your price range so you can narrow things down fast.  
To sum it up, check out these keyless entry system benefits: 
You can have numerous methods of access, for example, a key card, fingerprint access and more. 
Keyless entry systems give you the access control you need. 
You can have systems that are outdoor systems or indoor systems.
You never have to pay or go out of your way to copy keys or rekey locks.  
Rather than replacing locks or rekeying locks, you can just change your passcode if you need to. 
If you are looking into security options and want something technologically-advanced, then do take the time to think about the benefits that keyless entry systems provide. You just might be surprised at how popular they are becoming because of how much you can gain from this type of system. Keyless systems offer an abundance of benefits, as previously described, so you can see why they have become so popular over time. Keyless entry is not just for the movies and companies that make a fortune. You can even use it in your home. Go ahead and get on the phone with a lock and security provider in your area if you have any further questions!