Decatur Locksmith LLC: Access Control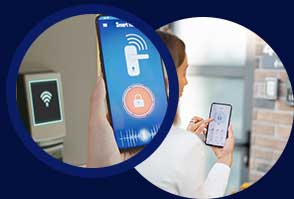 Are you curious as to what access control entails? Do you have questions about what the purpose of access control is, or if this sort of system would benefit you? The goal with this security solution is to minimize the opportunity that others have to access anything that is not authorized in terms of a physical or logical system. In terms of security compliance, and protecting people and data, it might be something you want to consider. 
To put it very briefly, those interested in access control are interested in having the ability to control, or otherwise stop or grant access to either data or a property. If you believe you might be lacking with security, then think about having this system installed. We are going to go over different situations which might mandate the need for access control. This is meant to help you make the right decision. If you do opt to take advantage of access control, just make sure you reach out to a locksmith that you can count on. This is an individual who could provide information on how this protects people, physical items and data. They (a skilled lock and security provider) can also provide you with a price quote for the service – and if you ask us, we provide free price quotes to those in our service area! 
We are Decatur Locksmith LLC and we have installed access control systems for customers throughout Decatur, GA and the surrounding area. As a matter of fact, this is such a popular service that we thought it would be worthwhile to put together this information for you.  
Perks of Access Control Systems
What are some perks about access control? These are some things that it offers, which you might find to be beneficial: 
Ability to Track History of Property Entry 
Ability to Better Secure and Protect Data and Belongings
Restricts Resources 
Allows for Multi-Location Right of Use
Can Save Money  
Access Control: Businesses that Might Want It 
If you are wondering specifically about the type of business or entity that would enjoy the advantages of access control, here's the short answer – a person or group who wants to be able to regulate who is granted access to a certain area of your property or resource is who would benefit most regarding access control. Because there is more than one option to choose from, for example, options that are good for those who want to select who is able to access specific resources - discretionary access control; and the kind of system a commercial or residential property owner might benefit from - role based access control, you are sure to find something that works for you. We will dive a bit deeper into some different terminology below. 
Physical Access Control 
Are you weighing out the benefits or do you have concerns about specific rooms remaining off-limits to some? If so, you might want to look into physical access control. If you are in charge of a campus, science building, or really any building in which not all of your employees need to access a certain area (you can also make sure customers stay out of certain areas), then you might want to think about physical access control. 
Logical Access Control 
This sort of system is best when you are looking for a reliable way to secure data. With logical access control system, you have more power when it comes to protecting networks (computers), system files, and so on.   
Another system available is mandatory access control. As you can see, there is no shortage of options at your disposal! 
Affordable Access Control Systems 
Wondering about the benefits of access control systems? Curious as to whether or not they are affordable? Surely you have questions about affordability and the different brands available. Here is a summary, once again, to provide you with an idea of the benefits to utilizing a system such as this one.
You are able to: 
Protect sensitive information. 
Ensure people are not able to get into your property unobserved.
See to it that confidential data is kept safe.  
See less theft or criminal activity as a result of keeping unwanted persons out of certain areas.
Schlage, Honeywell, ADT and Paxton are just some of the brands that create very reliable access control systems. A search for the best system via Google will reveal plenty of results at all different price points.
If you do manage or own a property of your own, you should think about access control and how it might benefit you. If you have an office, manage or own a hotel, run a campus or something similar, then this could be the type of system you benefit from tremendously. Depending on your budget, you are going to be able to have installation covered, hardware, software, keypad and card systems and so on. This might be something you want to take a few moments of your time to discuss with a lock and security provider in your location. 
Call a Locksmith for the Run Down on Access Control
If you are interested in obtaining more details about the importance of using access control, a lock and security provider will be able to help you and address any concerns you might have. We are here for those local to our service area, but we hope that regardless of where you are, you have found this information to be useful. 
Find more information on access control systems and take advantage of this security solution. It is not an investment that you are going to regret. When you want to control or monitor the movement of people in and out of your building or property, this is the way to go. When you want to keep your property secure, this is one direction to look into. Everyone deserves peace of mind when they are tasked with managing or owning a property. This is one security solution that will allow you to obtain that sense of comfort.